Online School Registrations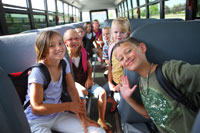 Simplify school registrations by accepting online registrations and payments.
Eliminate paper registration forms.
Reduce staff's data entry time.
All information isn recorded as families submit it.
Customize your online registration form for your needs.
Accept online payments for registration fees.
Instant access to reports available 24/7
The Orgs Online school registration forms make it easy for administrators to create online school registration forms. Offering online school registrations makes the process easier and more convenient for school families. Accepting online payments when a family submits an online school registration form makes bookkeeping easy.