Volunteer Signups Online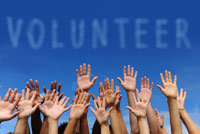 Make it easy for volunteers to sign up online, ... and for coordinators to easily view sign ups lists. The Orgs Online volunteer manager lets program coordinators create signup lists for multiple programs at the same time.
Typical uses include:
School event sign-ups
Lunch room assistant sign-ups
Field trip parent helper sign-ups
Festival worker sign-ups
Golf outing sign-ups
And More!
The online volunteer sign-up system provides online administrative tools to create volunteer sign-up lists. The volunteer sign-up lists created by program coordinators are displayed on a website. Volunteers can access the website anytime to sign-up. Multiple online sign-up lists can be displayed at the same time. When one online sign-up list is full, or the sign-up period ends, that online sign-up list can be removed -- while the others continue to accept online volunteer sign-ups. Each volunteer sign-up list allows coordinators to establish minimum age settings if applicable. Program coordinators can also set a maximum number of volunteers for each volunteer position. If the maximum number is reached for one volunteer position, then volunteers are directed to other volunteer sign-up opportunities. As volunteers sign-up online, the volunteer sign-up system records each sign-up and generate accessible online reports. Administrators can view reports by going to the administrative website at any time.